20 Aug 16:News from CHQ :
Meeting with Secretary, DoT on 19.08.2016:
On E2, E3 pay scales, DoT Finance informed Secretary that higher pay scales cannot be considered due to financial implications. Instead Finance suggested that the cadres can be placed in E1 scale and their pay can be compensated (by addl increments). However we took very strong exception to this and explained in detail to Secretary how JTO cadre has been recognised and upgraded the pay scales in 1986 by a Union Cabinet decision, again in 1996 by the V CPC recommendations. The cadre also upgraded from Group C to Group B Gazetted by the Govt as per the recommendations of V CPC. By demotion of the cadre to E1 scales, it will demoralize the entire cadre and cannot be accepted by the Assn under any circumstances. Further we informed Secretary that even after extending E2 scale, the Basic pay will be less by Rs.2220 (Rs.22820-Rs.Rs.20600), comparing to the JTOs joined prior to 01.01.2007. The E2 pay scale benefit will be extended to the fresh recruits after 01.01.2007 and not for others. All other Executives will not get any benefit at all. These are the entry cadre pay scales where direct recruitment taking place from market. Demotion of the cadres will affect the rect and talents will not join BSNL. Finally Secretary directed concerned officers to re examine the case in light of the fresh inputs provided by us.
Comrades, it is very clear that DoT is not in a mood to consider even E2, E3 pay scales. Make extensive preparations for a prolonged agitational programs on pay scales.
Revision of pension for the BSNL pensioners by referring the mater to 3rd PRC: Assn explained the issue. Pension revision is done through cabinet decisions which is cumbersome process. Pension revision is always getting delayed. So the matter may be referred to 3rd PRC and it should become part of terms of reference of 3rd PRC. Already DoT written to DPE in this regard, but it did not included in the terms of reference as it reached DPE late. Secretary informed that he had already spoken to the Secretary, DPE in this regard but the response is not positive. However on our repeated plea, he assured that he will take the matter with DPE to get it included in the terms of reference of 3rd PRC.
17Aug 16: United Forum of BSNL Executive Associations comprising SNEA, AIBSNLEA and AIGETOA served notice for organizational actions protesting against the inordinate delay in implementation of a) standard pay scales of E2 and E3 for JTO, SDE and equivalent cadres, b) 30% superannuation benefit for BSNL Recruited Employees and c) implementation of CPSU Cadre Hierarchy and first TBP.
Demands:
1. Immediate replacement of intermediary pay scales of E1-A and E2-A by standard pay scales of E2 and E3 for JTO and SDE equivalent cadres w.e.f 01.01.2007 as per the recommendation of the Joint Committee.
2. Extending 30% Superannuation benefit to BSNL recruited Employees as per the recommendation of 2nd PRC.
3. Implementation of CPSU Cadre Hierarchy and first Time Bound Promotion as per the recommendation of Joint committee.
Organizational actions and schedule:
1. "Lunch/Closing Hour Demonstrations" at BSNLCO/Circle/SSA Headquarters and other major Centres on 23rd August, 2016.
2. Full day Dharna at BSNL CO/Circle/SSA Headquarters on 06th & 07th September, 2016.
3."Day Long Hunger Fast" at BSNL CO/Circle/SSA headquarters on 27th, 28th and 29th September, 2016.
15 Aug 16: SNEA Pune Wishes All a Very Happy INDEPENDENCE DAY !
<![if !vml]>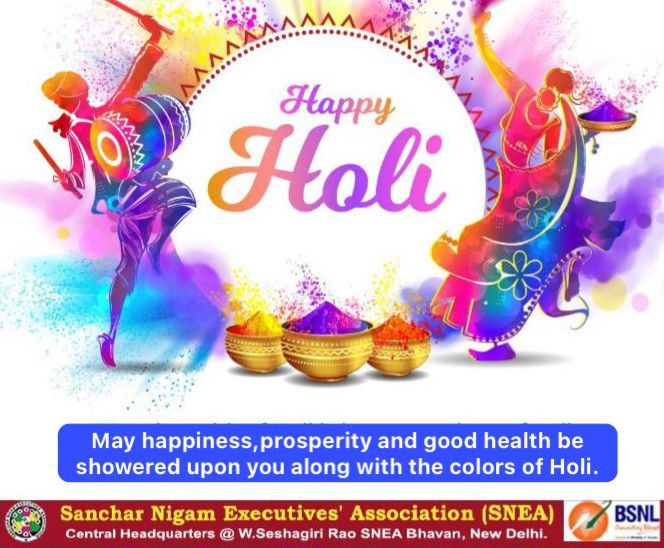 <![endif]>
12 Aug 16: BSNL has tied up with M/s Microsoft for sale of BSNL mobile services bundled with Microsoft devices.  Letter<<<>>>
12 Aug 16: Promotional Offer!! New Landline Plan for just Rs 49 per month.  Letter<<<>>>
12 Aug 16: BSNL to launch Unlimited Free Calling to ANY Network from Landline on every Sundays..!!  Letter<<<>>> .
12 Aug 16: AGM Staff calls for volunteers in the cadre of JTO/SDE/DE for posting in Mobile / Mobile Nodal units.  Letter<<<>>>
10 Aug 16: CO New Delhi issues instructions to relieve all the executives who are under transfer to/from tenure circles by 09/08/2016 else BSNL CO will relieve them through ERP on 16/08/2016.  Letter<<<>>>
10 Aug 16: Congratulations JAO LICE Result Declared!!  GM Rectt. Declares LICE result for promotion to JAO from Group C. SNEA MH congratulates all the successful candidates and wish them Best of Luck for their new assignments. Page1<<<>>> Page2<<>> List<<>>
06 Aug 16: Jt.GM PERS CO New Delhi circulates the updated Seniority List No. 08 of SDE (T). Letter<<<>>> List<<>>
06 Aug 16: TRAI launched MY-SPEED APP – TRAI has launched Myspeed Android Application to facilitate data users to know their network data download speed. App is available in Google Play store for download. Letter<<<>>>
04 Aug 16: Highly successful demonstration by the Forum of Unions and Associations. As per the call given by the Forum comrades all over Maharashtra participated in the Mass Demonstration against any move of the Government for strategic sale/disinvestment of BSNL or MTNL.